The Bedroom.
The bedroom features pretty blue wallpaper which I made from scanned images found in a book of antique French interior decoration. It's a cozy retreat for reading in front of the fire.


---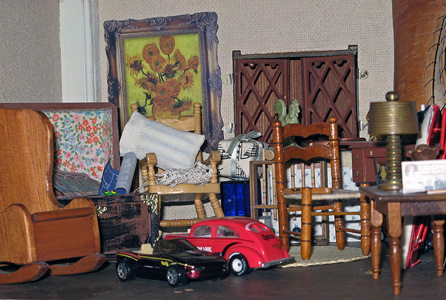 The Attic
This is the place to store odd chairs, the birchbark canoe, croquet set and old trunk full of souvenirs. The sewing machine is set up for curtainmaking... the house needs three sets of them! The toy cars are waiting for young visitors. Someday this might be remodeled into a nice bathroom!


---

The Living Room
Snacks on the coffee table, the livingroom is neat and ready for guests. The tall decoration on the desk is from Bulgaria, a vial of rose perfume is inside. Sofa and chairs were moved here from the Keystone mini mansion, where a new billiards table has been installed for the summer.


---

The Kitchen
The baker's rack was moved here and the cook has already baked several loaves. There are also sushi snacks and veggies -- squash, eggplant and bok choy to be cooked for dinner. The photo shows that the kitchen, like the livingroom and attic, needs paint or wallpaper, that will be a summer project ... at least if there is time free next summer.


---

Outside the Back Door
Outside the kitchen door the canoe is waiting for a paddle in the bay.


---