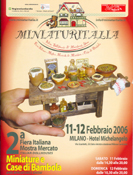 Miniaturitalia
February 2006
Click on any image for a larger view

Wednesday we landed at Malpensa Airport after a beautiful flight from Frankfort over the snowcovered alps. We rode the bus into Milan through a wintery landscape, snow lay on the ground under the trees. Brrrrrr! Good weather for the Winter Olympics! Good weather for indoor activities! We disembarked at the Termini Milan's enormous main train station and with the help of a guy eager to earn the price of a beer got pointed in the right direction of our hotel. Robin gave him a euro for beer and we steered our little wheeled bags over the bumps -- construction in progress of course -- to the Hotel Michelangelo. It was nearby on a little square bordered by leafless trees. There were patches of snow on the ground.
Robin climbed the stairs and took this view from the roof of the Duomo in the clear winter air, lacy white marble spires, and the snowcovered mountains in the distance.
Hotel Michelangelo, ottimo! Our room was warm and comfortable, bathroom a mini-spa in red marble. . . we would enjoy our five nights here. I think we were the first fair attendees to arrive, I kept my eyes open for Sabrina and others, but see only other tourists. We really enjoy the breakfast buffet where there is something for every possible breakfast preference from cold cereal and yoghurt, fresh fruit & juice, bread, cornetti, pasta, hot vegetables, fried eggs and three kinds of bacon.
On Thursday, the day before the fair we did a little exploring in the city. Found the Duomo and Galleria and Opera La Scala. Returning to our hotel we discovered how not to use the metro tickets. . . don't forget to read that small print on the reverse. Uffa! Got caught by the metro vigili and had to pay a fine. Taking a taxi would have been cheaper!
Friday Robin was off on his own to see Milano and my fair experience began with a plunge into the world of Fimo clay and Italian. When I saw Silvia Cucchi's creations in Fimo clay I just had to take her workshop! What a great way to begin, Silvia's creativity, knowledge and skill along with the encouragement and help of my friendly, generous (and certainly more experienced) classmates all combined to help me finish my set of miniature tins of anchovies, sardines, pineapple and beans. Next time, I promise to bring my own scissors and tools.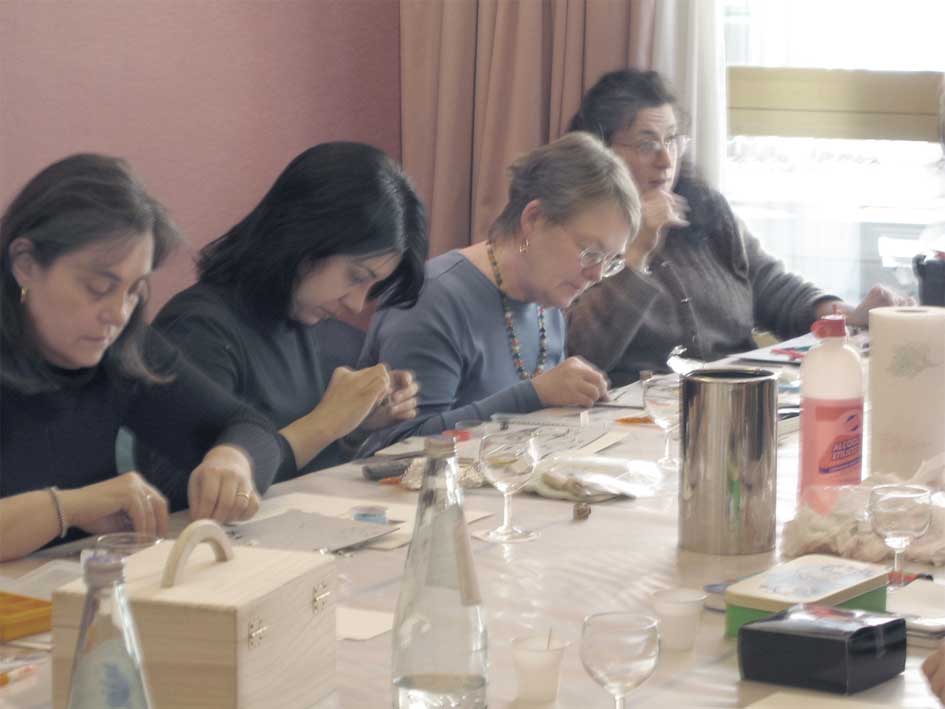 Friday morning in Silvia's workshop I find out that I have even more to learn about Fimo than speaking Italian.
After a delightful four hours Robin returned to the hotel and we went out for a lunch at a little cafe nearby. He'd been successful in getting his name on the list for seats at La Scala that evening, but we had to be at the theater side entrance at 5:30 to buy the tickets. We dressed up warmly and took the metro to the Opera where we joined a great crowd of opera lovers waiting to hear our name called so that we could push through to get our paper slips from the man in charge of the list and then go to the ticket office. Once we had our tickets we could leave for a couple hours before the doors opened for the opera. We decided to have coffee and pastries at the Opera cafe. Some opera-goers came in dressed to the nines, evening gowns, furs, the works. More fur coats in Milano than I have ever seen in San Francisco. Of course the cold weather may have a bit to do with it.
Saturday: Miniaturitalia opens early for those of us with pre-sale tickets and I meet with Sabrina to settle our accounts for Tacky glue, thus providing me with some cash for miniature treasures. Robin becomes an official photographer and is entrusted with Sabry's digital camera. His mission is to see everything he can.
Miniature lovers speak the same language!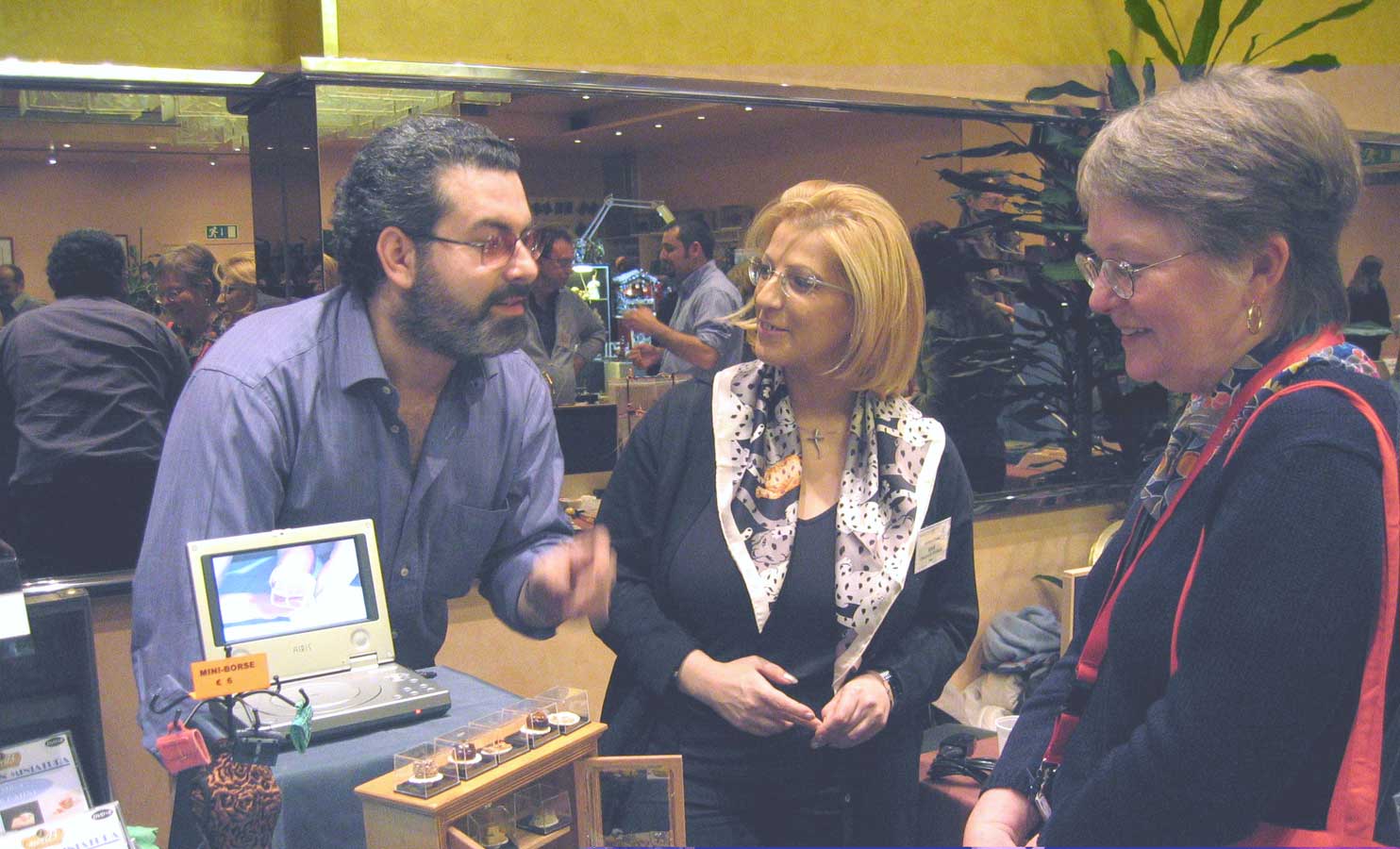 At last I meet Barbara di Torino and her delightful husband "Jack" has come to help at her table. I am overwhelmed by the variety of her miniatures. She's made a DVD with video instructions for creation of le carni in miniatura. I add one of them to my bag, I'll need help with my Fimo homework!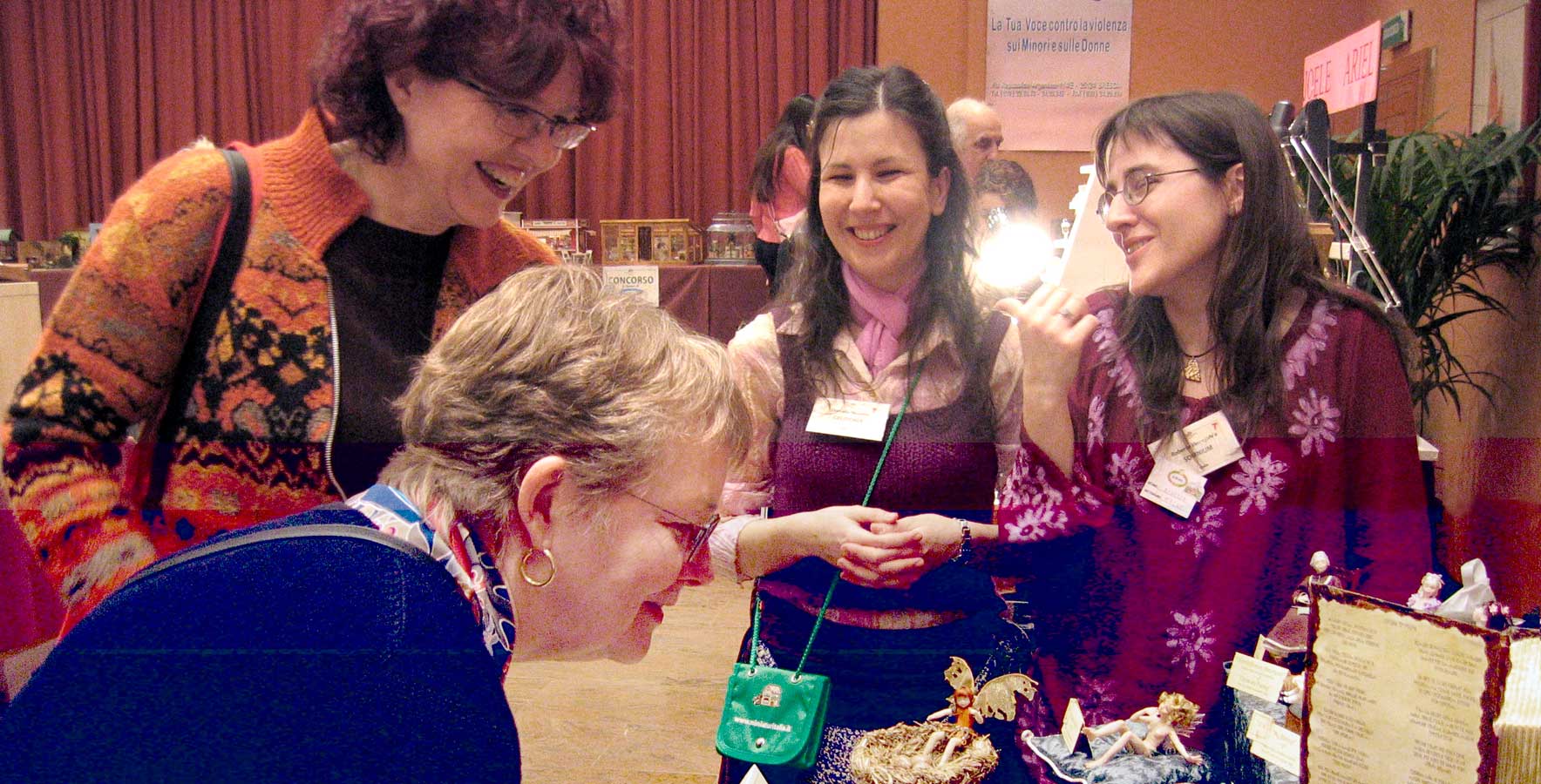 Daniela and Roberta share a table for their fantasies in miniature. Roby doesn't look like a fan of gothic horror!
The Violet Fairy by Daniela Messina, with bunnies, baby fairies and other delights. Who can resist these? Not many, given all the "sold out" signs on her display!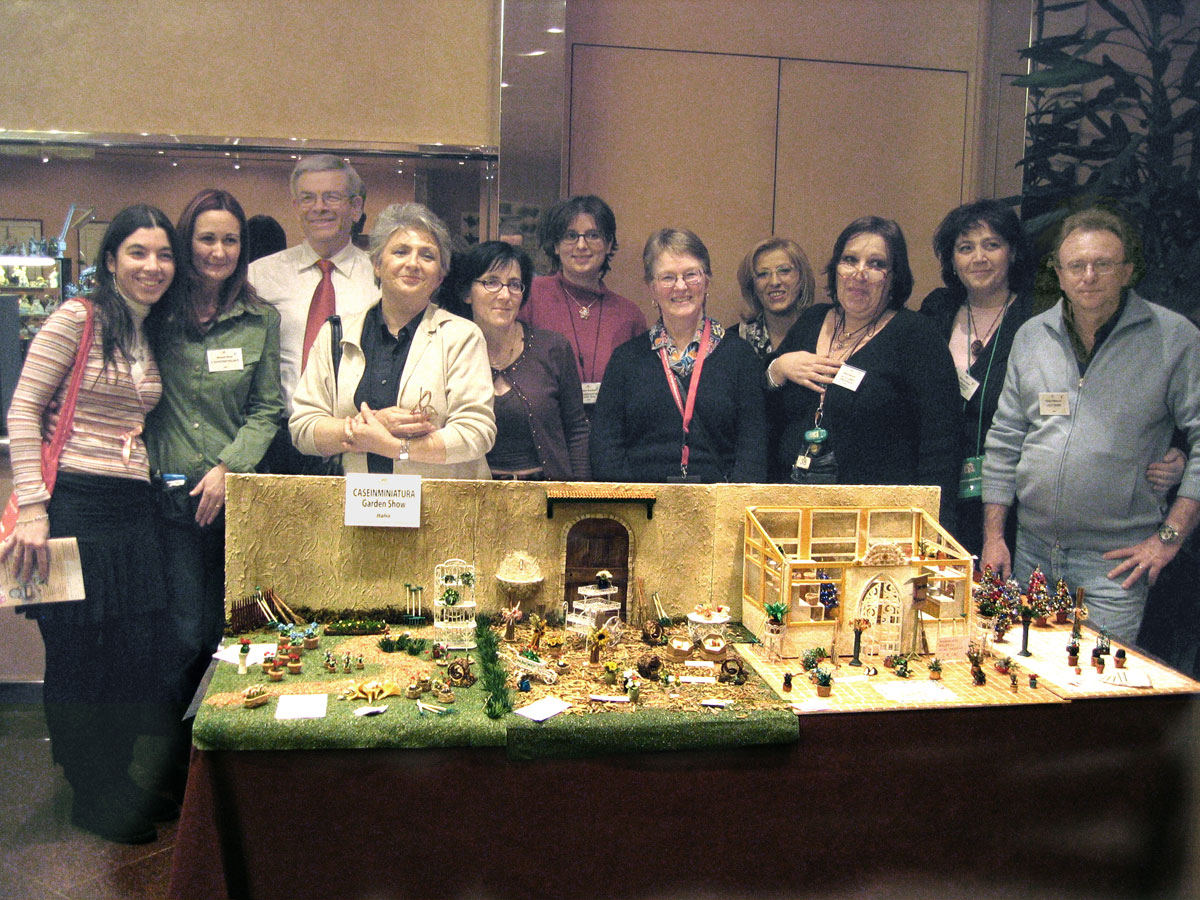 This little group made a bit of a stir at the show, folks were wondering "who are those people!?" Caseinminiatura members pose behind the Caseinminiatura Garden Party Table! Look at the table full of plants and garden accessories. For some this is a reunion of old friends, for me it's so much fun to meet new friends face to face after a year's worth of online visiting and swaps through the mail. Left to right: Ilaria, BarbaraII, Bruno, Annalisa, AnnaPaola, Chiara, Me, Barbara To, Maura, Roberta Eurosia, Giorgio.
© 2006-2007 Margaret Lew, Robin Lew
Home